John G's 1970 Black and Saddle LS6, M22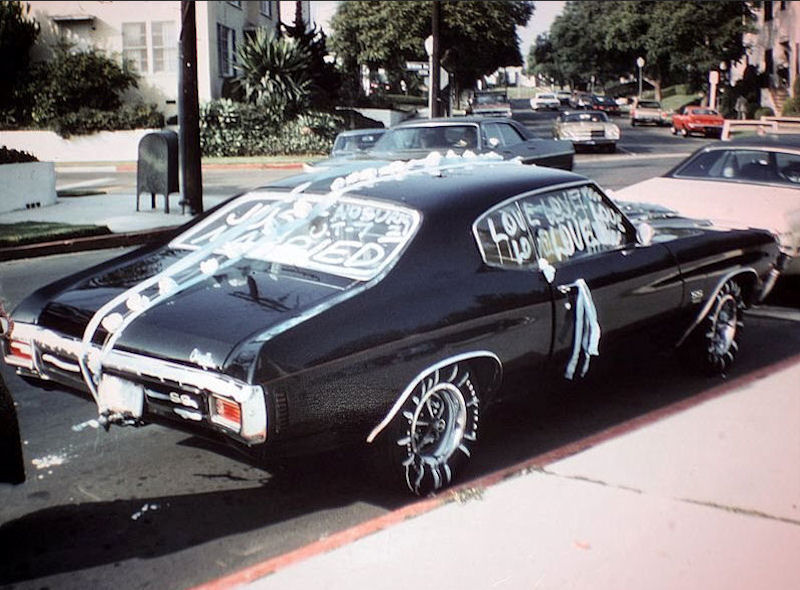 I was contracted by John G. to locate either a restored or needing to be restored LS5 or LS6 Chevelle. After looking at numerous fake cars I came across this real LS6 needing a complete restoration in Southern California. Though it was priced WAY over market value, it had a huge collection of paperwork, documents and affidavits from the original owner with a lengthy story about its history and I felt I could completely restore the car and still maintain some equity for the owner. Most of the parts were still with the car though many of them were not usable. The body, frame and drivetrain were in remarkable condition and the long-block had never been opened up. The fact that it is a black car with a saddle interior and no console makes it a very rare color combination. The car was purchased new at Reeder Chevrolet in Knoxville, TN. and the original owner John O., who is still alive and well, and the selling salesman J.B (Bud) Henson was also known though unfortunately has since passed away. However, his wife is still alive. All the previous owners are also known which only adds to its credence.

While sitting on the new car lot for sale, the original air cleaner, carb and battery were stolen. The dealer added replacement parts though incorrect and moved the car onto their showroom. Due to the original owner's job with the FBI, he felt it would be better to have the stripes removed at the dealer and for concerns of theft had the dealer remove the 454 emblems off the car and replace them with 350 emblems. He also de-chromed the car to some extent. Fortunately he was very careful to save any and all paperwork associated with the car all these years. In 1971 John was transferred to Los Angeles and the car has spent the rest of its life there which explains the rust free body and frame and was still there when I located the car. John O. sold the car to Jeff R. in 1999 with 82,000 miles on the clock. The mileage remains close to that and during its life had only two owners prior to it being found.

It was recently treated to a full frame off Concours restoration to the same standards as all of our other LS6 projects; meaning this car will be worth considerable money if and when the owner ever decides to sell as it is restored correctly and not to the normal 'auction' standards as so many other shops do. Fortunately, this car is going to a collector and will be treated as such. Follow the photos along step by step as we restored the car.
Click any image to see larger view.
The devil is in the details