Testimonials
www.inlinetube.com showcasing some of our work.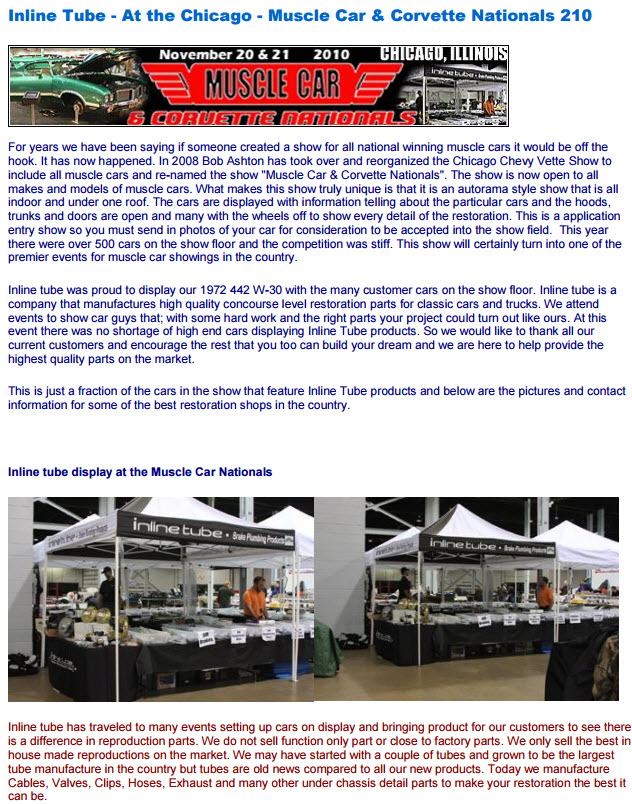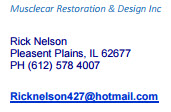 Complete Inline Tube article in .PDF format
www.vintagemusclecarparts.com also showcasing some of our work.
http://www.vintagemusclecarparts.com/customer-cars/rick-nelsons-ls6s/
Our cars have been awarded the Gold Concourse award at the Muscle Car and Corvette Nationals as well as the Gold Spinner award at VetteFest every year judged as well as two recent Top Gun awards. Several magazine features have also been done as well as several more that are currently in print. Look for them at the newsstand soon.
Car runs, looks and performs outstanding! Please relay to your crew job well done. I have seen your work so it was to be expected and you guys panned out beyond my expectations. Having my own business sometimes "no news is good news" and you never hear back from your customers. I certainly could not be one of those customers. Moral from customer feedback is essential in my opinion, and I planned on doing just that. Your recommendations on the project were warranted and appreciated. I will definitely recommend your company when the situation arises. Thanks for the updates during the project and the pictures you provided along the way. Very, very happy with the end result. Thanks for bringing the car back to its former glory. The details you corrected made a huge difference. Job well done!! You guys do great work! Thanks for preserving the Nickey! I beat it last night and it liked it.
Dave B. - 1973 Nickey Camaro
"This hobby and business we are in keeps ratcheting up. I know the cars that come out of your shop, the factory couldn't have done on their best day with no drinking and 24 hours sleep."
Eric Gardner-Gardner Exhaust
"Now those cars are 100 point restorations down to every nut a bolt...very impressive."
Nick from Team Chevelle
"Rick is, as the old saying goes, the cream of the crop...not to mention you'll seldom (if ever) find a better person to work with."
Eric Jackson-Vintage Musclecar Parts www.vintagemusclecarparts.com
"Rick does the best work I have seen and is the best out there in my opinion. Rick was a wealth of knowledge and help with my restoration. Nice guy too!"
Brian D. South Dakota
"There are lots of people that can shoot you an awesome paint job. Very few restoration shops are as intimate with Chevelles as Rick…I'm thinking like three other cats on the planet. They made these at a few plants, all had subtle nuances respective to assembly.
This of course means more to some than others but when you get deep in to it, like Rick says the 'difference is in the details'. My photo of my 'Pilot car' was with a fifteen year old amateur restoration and PRIOR to Ricks amazing talents. The picture of it with body off and driveline installed is Ricks signature."
Mark M. California and owner of the 'Pilot Car'
"As Mark says, there are a few restorers who do this type of detailed work and it's not for the faint of heart. Rick's work is outstanding. The attention to detail is second to none and it only takes 2 things, lots of time and lots of money. Restorations of this magnitude often run 6 figures deep, there is never a corner that is cut and the quality reflects that. These are not 50K restos we're looking at here, it's the best of the best!!!"
Mike
"I can say that we have dealt with Rick on both personal and business levels over the years and that he and his work is highly recommended."
Stefano Bimbi ~ owner of Nickey Chicago www.nickeychicago.net
"I would highly recommend Rick as he is a wealth of knowledge!"
Dina W. Morris, IL
"Rick's work on my Shadow Gray LS6 coupe was simply amazing. His attention to detail and correctness goes beyond words. If someone is looking for the best, he's one to go to."
Dennis L. Eldersburg, MD
"I live in California. When I researched people to restore my Yenko Camaro by asking who would be the BEST person for the job Rick's name came up at the top of the list with a few others. I sent the car all the way to Illinois for him to work his magic. Several months into the job and he has exceeded my expectations."
Dana H. California
"Rick got my LS6 survivor ready for Vintage Judging at the November 2009 MCACN show and I cannot say enough about how pleased I was with what he did. My car achieved Legend in all categories thanks to Rick. I absolutely will use him again in the future."
Joe D. Texas
"Just wanted to tell you Rick just how beautiful the LS6 Chevelles that you restored are. The Shadow Grey car was just stunning and the LS6 droptop in that color was perfect. Chads silver LS6 was every bit as nice as those other two. I would not have wanted to be the judge in that group. Great job guys...BKH"
Brian Henderson ~ Super Car Workshop
"We just drove 4k miles round trip from So Cal to Rick's to pick up my LS6 Chevelle in 5 degree weather! We also delivered my 70 M22 4.10 Z28 in a thousand pieces! After seeing his meticulous craft on my Chevelle, it was a no brainer I wanted him to do my Z. I have no doubt it will receive the same level of restoration. Plenty of shops out here that could have done it, none would have been as correct."
LateBrakeU2-California
"I teach Customer Service to about 1000 AF employees annually. When you provide customer service that goes above and beyond you will gain customer's loyalty. They will tell everyone how great you are. I think this is what we have here with you guys. Loyal customer that will pass along their great experience when it come to restoring a Chevelle. Your customers are now your business card, and this is priceless."
Luis ~ Maryland
"I have a 1970 LS6 Chevelle that has been in my family for around 30 years. It was put up in 1989 and in 2006 I decided I wanted to restore the car. After much research, such as Yenko.net, Team Chevelle and word of mouth, Rick's name kept coming up. After going to a LS6 Showcase of Chevelles and seeing Rick's work, there was no doubt that he was the man for the job. When I got back home, I gave him a call and the rest is history! Well, almost. Rick is one of the most talented car restorers that I have met. His eye to detail is phenomenal. And one of the best things that have happened during all of this is that I have met two lifetime friends in him and Annie. He has truly exceeded my expectations and my expectations are usually pretty high. So to make a long story short, the bottom line is if you're looking for perfection, attention to detail and a factory correct restoration, Rick is your man!"
Mark P. Virginia
"I have seen the shadow gray Chevelle on this link and it's out of this world. Lots of attention to details, researched by plant, usually these resto are trailer queens, and they exceed AACA expectations. I always say, "Do it right, do it once, do it now."
Luis ~ Maryland
"Rick & Annie; again, two of the nicest people I have ever met. It is great to be able to showcase Ricks latest in the sYc Showcase and as always, whatever he brings is a huge hit."
Bob Ashton ~ Muscle Car and Corvette Nationals www.mcacn.com
"Earlier this month, I contacted Rick about restoring the steering column out of my `67 Chevelle SS396 for me. I sent the column out to him on the 15th of this month with the understanding that he needn't rush the job, and that I was in no real hurry for it. Much to my surprise, Rick sent me a few pictures of the column on the 19th...he already had it apart and in process! Guess what showed up today on the FedEx truck??? One very nicely restored `67 Chevelle SS396 steering column. I can't tell you how happy I am with the job he did, not to mention the surprisingly quick turn-around! Rick, thank you for a job well done."
Eric Jackson
"I had the pleasure of seeing this Chevelle, Rick does top notch work!!!! The car is amazing and is light years away in quality from a lot of the Ebay LS6 cars that some inquire about on Team Chevelle."
Mike ~ Florida
"Your years of experience, research, talent, attention to detail, correctness, and craftsmanship made this restoration second to none. My hat's off to you."
"Congratulations to a true class act--I cannot think of anyone more informed or more passionate about LS6 Chevelles. Rick is also a genuine gentleman and a real "stand up" guy, who has more friends and people he's helped around the country than he likely realizes. He and Annie will fit in well among the other superstars in the restoration business who frequent this site. Congratulations to Rick and Annie on what I know will be a great decision and award-winning venture. Best of luck - not that you will need it!"
M Porter
"The restoration business is a tough, tough business, but it seems the guys that do-it-right always have work. The business end of this hobby is soft right now due to the recessive tendency of the national economy, but I predict that Rick and Annie will do just fine. Their reputation and collective experience will make the difference."
SS